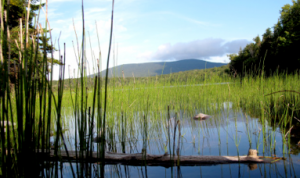 Adult Leader (M):
Adult Leader (F): Michelle Holmes
Youth Leader: Brian O'Rourke, III
The scout season is starting up again! For our first adventure of the year, we will be heading to Stratton Mt., Vermont for a weekend backpacking trip. Stratton Mt. Pond is considered one of the most beautiful places on the Appalachian Trail. If you plan on participating in the Philmont trip next summer, this counts as one of the required backpacking trips. Also, this trip is a good initial camping and hiking experience for new scouts as the hiking distance is fairly short.
The Plan
Friday- Leave Cambridge Friday at 4pm
Bring brown bag dinner for the drive to Vermont – Approximately 3 hours
Friday night at the O'Rourke ski condo in Intervale at Stratton sleeping in our bags on the floor
Saturday-Wake up early, eat a quick breakfast, carpool short distance to trail head (limited parking),
Hike around 4 miles with full packs, the trail is relatively flat. Viewing loons, beaver dams and wildlife are expected.
Arrive at the campsite, eat lunch and set up camp.
Afternoon plan is weather dependent and will depend on the scout choices and conditions. There is potential for an optional hike to the Stratton summit in the afternoon without packs and maybe even a cool off in Stratton Pond if temperatures are very high.
Sunday- Wake up and eat a quick breakfast
Hike back to trail head (about 4 miles).  (Carpool back to vehicles)
Drive home to Cambridge about three hours to arrive back in Cambridge midafternoon.
There will be a mandatory pack check (Bring your pack with ALL the gear below) at the first scout meeting -Tuesday September 3rd